Hey Besties! It's Time!! Let's have some Grown Woman Talk!!!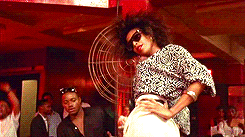 So many women feel the need to strive to be perfect. This extends from the household, the work-place, and of course personal relationships! Do you look at other people's lives and compare them to your own? Does this make you question whether you are smart, fit or happy enough?
 I know that I def' do!! Do you overthink when you feel like there is just so much on your plate? So many women have so much to do, and play so many roles, and it often leaves them with "Super Woman" Syndrome: thinking that everything has a strong urgency and it must be done RIGHT NOW! God forbid any and everything were to go left, you automatically jump intp feelings of ULTIMATE & EXTREME stress and anxiety because simply, it all has to be perfect! Sound Like You??

Perfectionism can have serious implications: it's been linked to anxiety and depression, and the health and happiness of young women. We as older women have to remember we are HUMAN and we have to find PEACE in ourselves, in order to accomplish anything on our Long List of Things To Do. The idea of Perfectionism is becoming very concerning, especially within the African American Culture. I've talked to a few women to ask them their opinion: "Why do you feel the need to be perfect ?". Many answered saying social media has played a huge influence on how and why they began feeling like they have to strive for perfection. This includes anything from
the Instagram images and feeling like if they are not on that level they aren't doing what they are suppose to.
At the end of the day there is no need to compete. There is only one AUTHENTIC YOU. No one can life your life but you. Live Loud. Live Happy. Live Free. Be Comfortable being PERFECTLY IMPERFECT!!!
We All Are.
Please reload